Wedding decoration, table & stationary design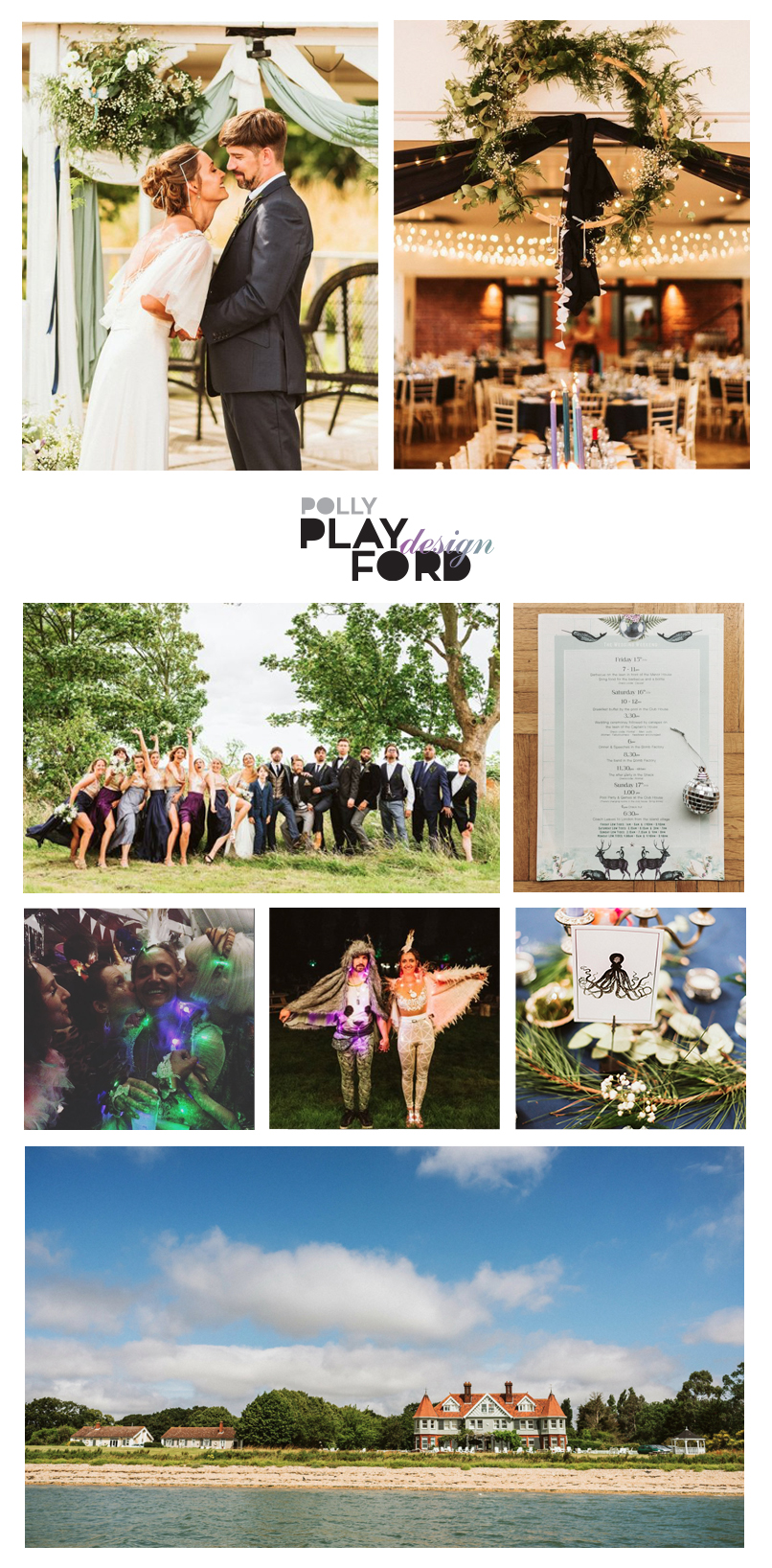 Wedding decoration, table & stationary design
This is where I sell my design work I created for our wedding. Chris and I got married last summer on Osea Island. Being a designer, I wanted to have creative input on as much of the event as I could. This entailed making; wedding dress design, wedding accesorries, bridesmaid dress design and accessories – including living succulent jewellery and a pearl beaded hair clip, all the flowers and bouquets, table decorations, alter, dinner, after party and wooded den venue decoration, after party outfit- including making a mohican headdress, feather cape, silver leather bumbag and pearl and shell necklace, all the wedding stationary and signs oh and the wedding planning. Needless to say I was fairly busy. It all went swimmingly and it was the best weekend of our lives. The effort was well worth it. Thanks mainly to our incredible group of friends and family that helped make it all work. We had 3 friends who were professional hair and make up artists Fairy Scones, Becky Doney and Bianca Bonjour who did me and my bridesmaids. My friend also made my wedding dress Olivia Deur, she is super talented. My 5 friends were also DJ-ing. My experiential event planner friend helped with a lot of the planning. My mum and sister helped with the flowers and decoration. Another friends made the amazing wedding video Max Thurlow. Oh and I mustn't forget our incredible wedding photographer Sachin Khona who was well worth the money.
Osea island is an amazing venue, it's a private island and we had the whole thing for the weekend. Once the guests drove over the island tidal road at low tide, they were all stuck there until the next low tide, so it makes it feel even more private and special. Some guests arrived by speed boat, some sailed over and stayed on their yacht moored off the island. All the 177 guests stayed in the 20 cottages for the 2 nights on the island and enjoyed the facilities and events we put on; Friday night barbecue swimming pool, tennis court, fishing, cycling, games room, sauna, gym.
After the ceremony that was held by the beach on the lawn under the gazebo, we all walked to the old bomb factory for the dinner and speeches. After which we had the band followed by the party in the Shack that went on till sunrise. We encouraged everyone to dress as animals from midnight onwards which went down spectacularly. I was a white bird, Chris was a panda and the animal collective  rinsed every last ounce of fun from that island over the weekend. We were to be found on the Sunday riding on the tops of cars, driving around the island at 5mph with the music on full volume collecting friends from various venues to move the party to the pool. It was very hard to leave the island on Monday and we vowed to go back next year to ease our departure.
Our wedding was featured in Dune Bug Weddings, which according to the photographer, is a big deal. 😉