Money Tree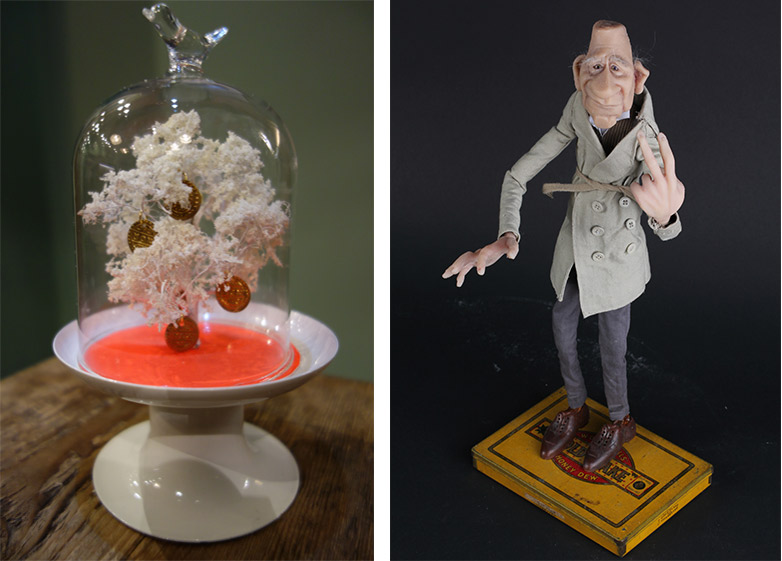 I made this tree for my sister's 30th Birthday. They've just bought a house and need cash to develop it so I thought I'd help out financially. It's not clear if any more money has grown on the tree since I made it but I remain hopeful.
My friend Kirsty Obbard who I met working on some Graphics at Hemsley Fraser, made some incredible puppets (Frugal on the right) and she inspired me to get model making. I took a trip to 4D model shop in Algate East . It's a great shop. You can buy all manor of small things and materials I didn't know existed like metal mesh tubing by the meter and they also do laser cutting. It's certainly worth a visit if you're into model making.
This is a definition of the money tree as described by my Intern: Eniko Toth
Money tree (Quida kerchinga)
Habitat: The money tree is predominantly found in the Amazon make-it-rainforest. The tree grows best in non-flooding areas and is often found around enthusiastic, hard working, and driven plants.
Botany: The plant is unfortunately deciduous, shedding all of its leaves during the dry season – this usually happens around holidays. The fruits of the money tree weights more than they are worth as they consist of 97,5% zinc and 2,5% copper and are not for human consumption as it can cause severe blindness and loss of common sense.
Threats: Money trees are sensitive to high prices, 2 for 1 sales, heavy taxation and they only seem to produce fruit in undisturbed and locked wardrobes miles away from shopping malls or ebay. They are high maintenance and depend on regular income and considerate expenditure for their continued survival.
Significance to Humans: The fruit of the plant is one of the the most valuable product and has high demand worldwide. They are usually harvested from the wild by each and every human that lives and breathes.