Creative Arts Magazine Article on Spotting Trends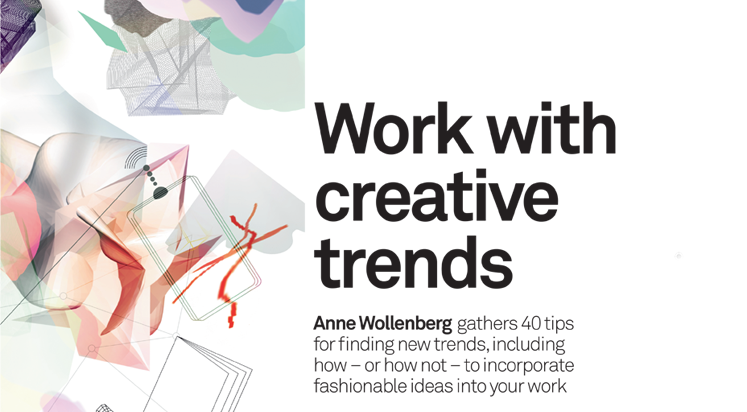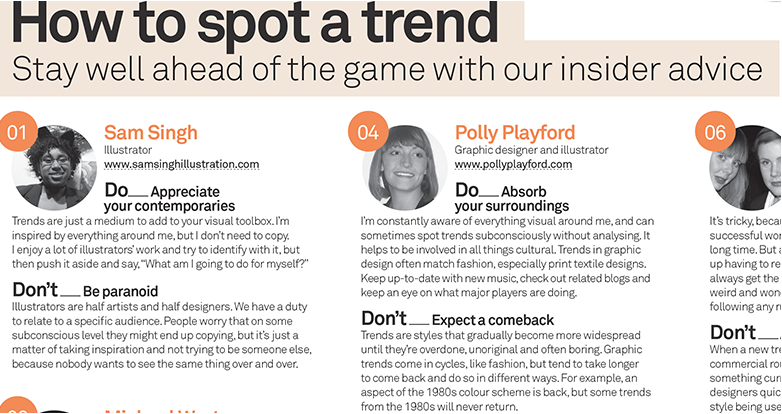 Creative Arts Magazine Article on Working with creative trends April 19th 2011:
Anne Wollenberg gathers 40 tips for finding new trends, including how – or how not – to incorporate fashionable ideas into your work.
It's nigh-on impossible to ignore creative trends, however you choose to interpret and act on them. Living in a visual society means constantly being surrounded by influences. So how do you sift through new aesthetics, styles and technologies? And just how important, and useful, are they?
To find out, we've spoken to 20 creatives with a broad range of views on finding and following trends. Unsurprisingly, many are contradictory – some advocate soaking them up and cherry-picking the elements that best fit your style, while others actively shun fashionable concepts. We've also collected plenty of practical tips, from implementing new colour palettes to seeking out other creative fields that are driving developments in the design world.
Whatever your take on the purpose and value of creative trends, turn over for everything you need to know about identifying and reacting to them yourself.
This is my bit:
Polly Playford
Graphic designer and illustrator
www.pollyplayford.com
Do Absorb your surroundings
I'm constantly aware of everything visual around me, and can sometimes spot trends subconsciously without analysing. It helps to be involved in all things cultural. Trends in graphic design often match fashion, especially print textile designs. Keep up-to-date with new music, check out related blogs and keep an eye on what major players are doing.
Don't Expect a comeback
Trends are styles that gradually become more widespread until they're overdone, unoriginal and often boring. Graphic trends come in cycles, like fashion, but tend to take longer to come back and do so in different ways. For example, an aspect of the 1980s colour scheme is back, but some trends from the 1980s will never return.