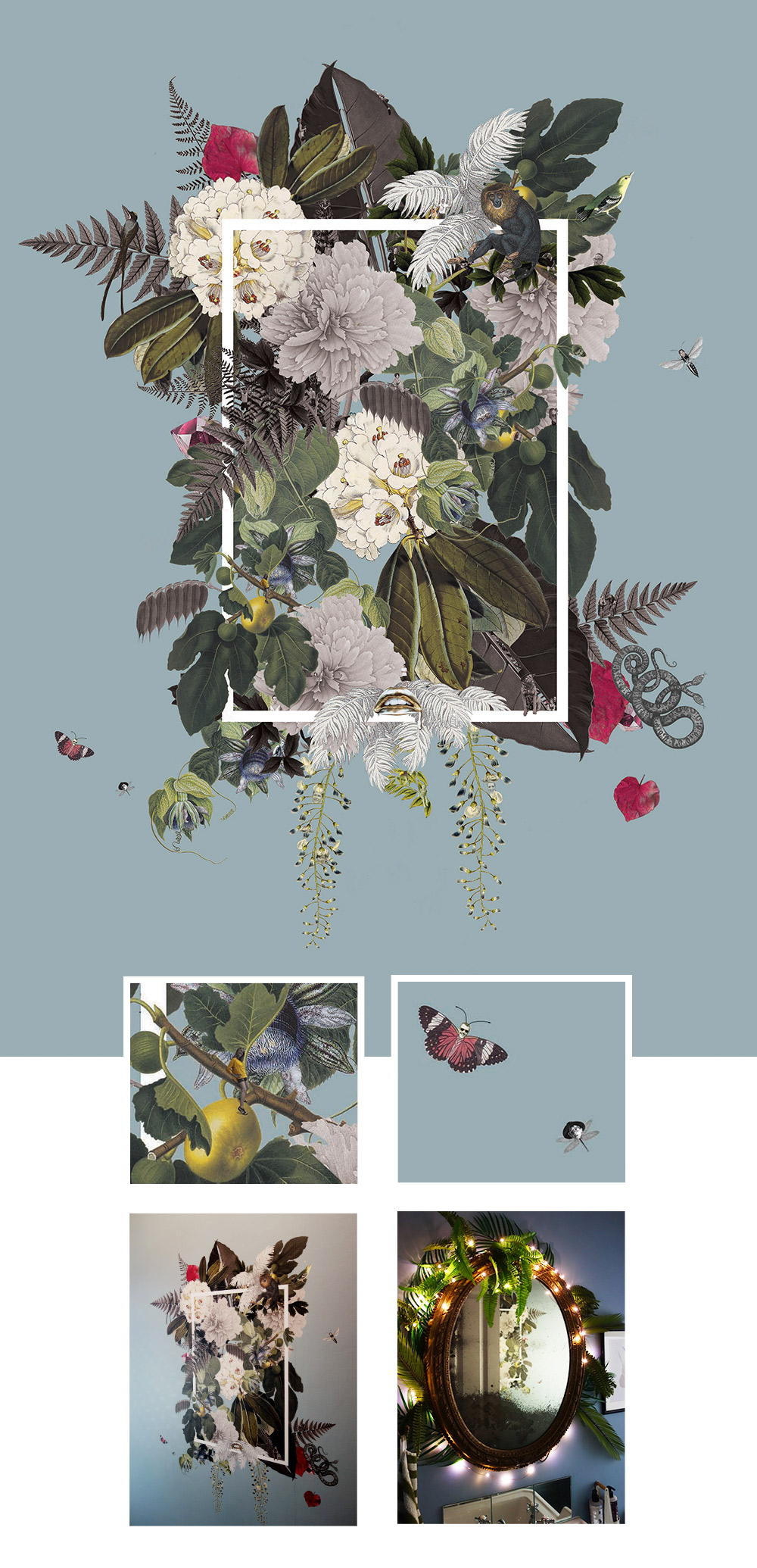 Bespoke Mural Wallpaper – Jungle Bathroom
I designed this wallpaper mural collage for a bathroom in a residential house in Surrey, UK. I collected vintage botanical illustrations and scanned foliage from the garden and arranged them using Photoshop around a rectangle to give it structure and reflect the space it's in. I made sure the flowers and foliage were repeated in the pattern to give it some sense of symmetry and to stop it looking too busy. The design fills the wall space and sits opposite the sink and mirror. You can see it reflected in the 100 year old mirror in the photo below the illustration. I also designed the interior for the room, including the faux foliage and the fairy lights around the mirror. I colour matched the Farrow and Ball paint colour on the wall so the wallpaper fit into the room seamlessly.
Brandler.London, a furniture and kitchen company installed a beautiful reclaimed wood beam on the ceiling which works beautifully with the 3 colours used on the walls, Farrow and Ball's Studio Green for the picture rail, Lulworth Blue for the walls and skimming stone for above the picture rail.
If you look closely at the custom wallpaper design or at the close ups in the 2 boxes you will see lots of little people and faces hidden by their relative size to the mural wallpaper. There are over 40 friends of this owner's bathroom hidden in the mural wallpaper, making it a truly bespoke and personalised piece. The idea was the owner wouldn't tell their friends in the hope that they find themselves in the bespoke wallpaper when visiting the downstairs bathroom. It worked a treat and there were a few surprised guests discovering their faces featured in the interior design mural.